CSB Autumn Bitesize Series with Harare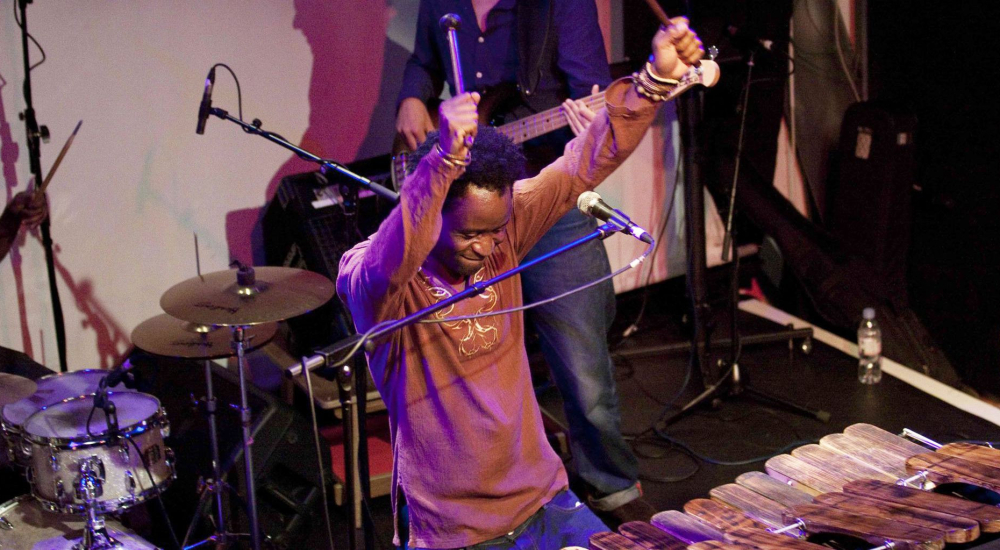 Sunday 31st October                LiveStream Starts at 3pm
After a fun packed, post lockdown Summer of live events, CSB is excited be back with our Autumn Bitesize Series.  This Autumn we have a wonderful selection of music from around the world, in bite-sized, pre-recorded, live performances.  Get cosy on a Sunday afternoon and tune in to our livestreamed series, or listen later at your leisure.
Harare
Harare are one of only a handful of Zimbabwean dance ensembles in the UK today. Fronted by the exuberance and charisma of Kuda Matimba, Harare feature a groundbreaking line-up, mixing the buzzing acoustics of the Southern African rich-toned marimba, mbira, ringing jingling guitars, swooping basslines, irresistible dance rhythms and uplifting vocals. A virtuoso marimbist, Kuda Matimba was a member of Zimbabwe's legendary Bhundu Boys, a groundbreaking force in the African music industry, as they paved the way for more artists to reach commercial success in Europe and the US.
Harare celebrates both the past and the future of African dance music and brings a spectacular mix of Southern African musical styles, particularly the musical styles of Zimbabwe. Kuda strongly believes in the importance of preserving one's heritage through music. Harare's music is about social awareness, life yesterday, today and tomorrow, advice, respect, love for one another and compassion. It expresses emotions such as pain, love, wisdom and rage. Words to the songs are performed in the Shona language of Zimbabwe.
Album: https://harare.bandcamp.com/album/tafara
Video: https://www.youtube.com/watch?v=qWRauddZQ9c
Website: www.hararemusic.com


Watch here:
CSB Page - https://www.facebook.com/celsancfest
Youtube - CSB Livestream - https://www.youtube.com/channel/UC1OBGLy2bwNMw-WPLadqRiA