CSB Autumn Bitesize Series with Rihab Azar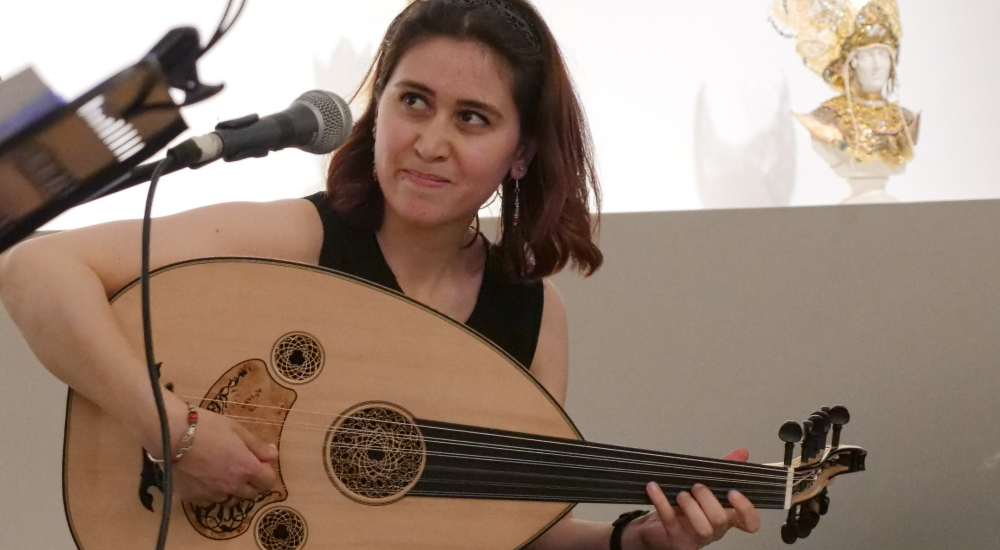 Sunday 12th December                   LiveStream Starts at 3pm
After a fun packed, post lockdown Summer of live events, CSB is excited be back with our Autumn Bitesize Series.  This Autumn we have a wonderful selection of music from around the world, in bite-sized, pre-recorded, live performances.  Get cosy on a Sunday afternoon and tune in to our livestreamed series, or listen later at your leisure.
Rihab Azar
Rihab Azar is a Syrian oud player and music educator.  A graduate of the Conservatoire of Damascus, Rihab was the first woman oudist to perform accompanied by the Syrian National Orchestra for Arabic Music (2014).  In 2015, she was a recipient of  a Chevening scholarship which enabled her to study Music Education at Master's level at UCL. Arts Council England Recognised her as a musician of "exceptional promise" (2016). Since 2015, Rihab has been performing around the UK, collaborating on several interdisciplinary and cross-genre projects as well as her involvement in social advocacy. Rihab has been featured on multiple occasions on BBC platforms.
Rihab performed for CSB in 2019 at Ikon Gallery and for Syrian residents in a community setting.  She also produced an Up Close digital performance and workshop as part of CSB's 2021 Refugee Week Online Programme.  We are really excited to be working with Rihab again and to bring her beautiful and heartfelt music to our audiences.
Watch here:
CSB Page - https://www.facebook.com/celsancfest
Youtube - CSB Livestream - https://www.youtube.com/channel/UC1OBGLy2bwNMw-WPLadqRiA