Birmingham Refugee Week Online
Birmingham Refugee Week Online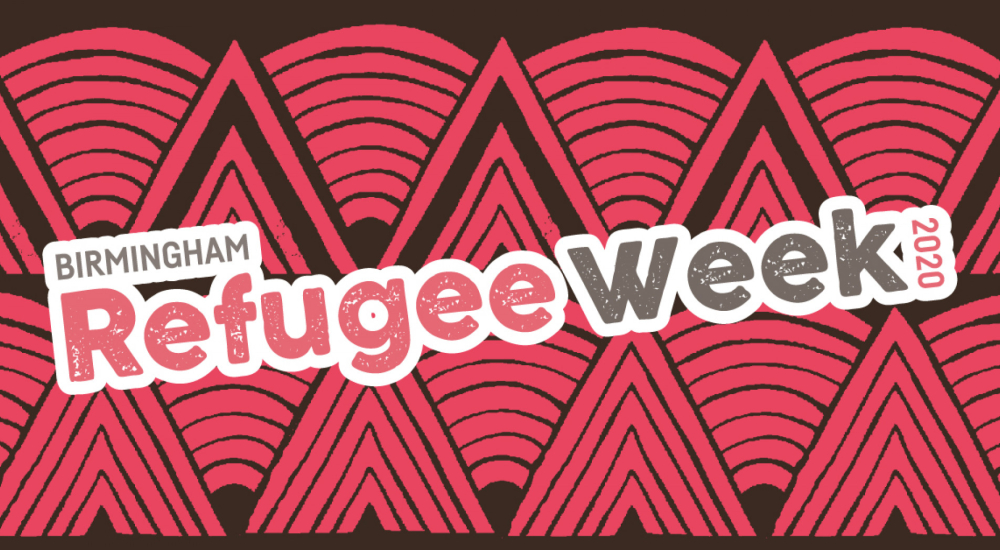 2020 saw an online programme put together by members of the Birmingham Refugee Week Network (BRWN).  BRWN is made up of people, groups and organisations from the arts, culture, community and refugee support sectors.   They meet throughout the year to plan and create partnerships for Refugee Week, and to share opportunities and information on issues and campaigns.  Please see below for information on some of the events and content shared by members of the network.  Some of this content is still available to view online.
ARTconnects
Live online workshop
Artist and activist Salma Zulfiqar ran an online workshop in partnership with MAC.  An opportunity to "Create your own artwork at home"
Ikon Gallery
Screening - door open – (2014–2019)
A film by ZouZou Group, comprising two anonymous artists, one Syrian from Damascus, the other British, living in England.
Soapboxes – To Imagine
As part of World Refugee Day and Midsummer Festival, Ikon and Celebrating Sanctuary Birmingham have compiled 20 quick-fire, home-produced, soapbox videos on the theme of Refugee Week 2020.  The event included presentations from: CSB, Migrant Voice, Birmingham Opera Company, Artivistas, Baobab Women's Project, I Am Espoir Campaign, Royal Shakespeare Company, Gap Arts, Cllr John Cotton (Birmingham City Council), BCMG, 36,000 Humans Project, Counterpoints Arts, plus artists and activists from across the city.
Polish Expats Association & Centrala Gallery
Hosted a number of events through the week including:
Centrala Handsworth Community Forum - Zoom Meeting
Interactive Live Performance with Iryna (Muha) & Ava
Ava is an AngloIranian band,- an authentic fusion of Persian poetry, soaring vocals, and western instruments. John (Guitarist) and Mina (Vocalist) will perform a mix of original and classic Iranian tunes with a Flamenco influence in their duet.
Iryna is an Ukrainian musician and performer. Her original compositions, as well as traditional folk songs tell timeless stories of love, of belonging, of living – as well as of the darker side of Eastern European Folklore with tales of abandonment, plots, fighting battles, or preparing for death. Iryna is going to perform a few songs inspired by her experiences as a migrant in UK and also interact with her audience and respond to questions.
The performance is available to view here:
Migrant Help
Our Dreams: the art class
Migrant Help and ARTconnects ran an online art workshop, led by award-winning artist and activist, Salma Zulfiqar.
Their Dreams: the exhibition
They came to the UK dreaming of a better and safer life, but the reality was very different: under threat they were forced into prostitution, forced labour and domestic servitude.
They came to the UK dreaming of a better and safer life, but their reality was terrifyingly different. Their dreams were not considered important by their captors, but we believe everyone's dreams are of equal importance.
To find out more about the work of Migrant help, please visit:
Celebrating Sanctuary Birmingham
Work by featured artists, creative workshops, playlists, links and more.
See the full CSB programme here: