Zirak Hamad & Daholl Kurdish Band [Kurdistan]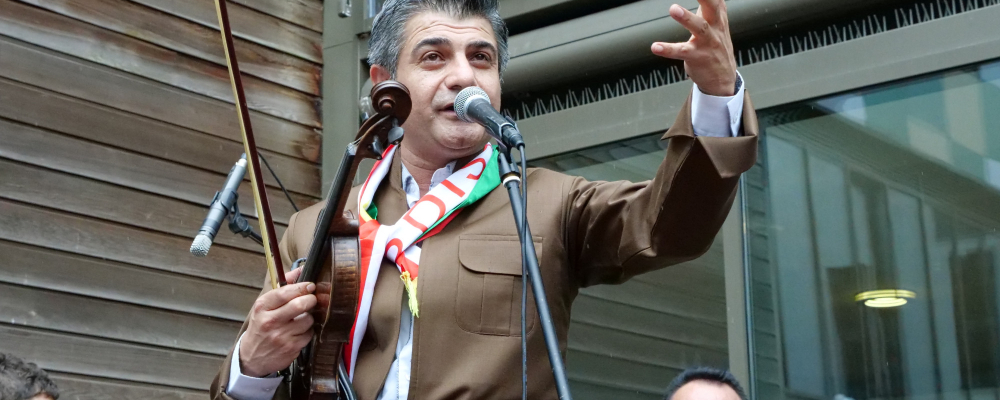 Zirak Hamad
Zirak Hamad is a violinist, drummer and teacher originally from Iraqi Kurdistan living in the UK since 2002. A graduate of the Institute of Fine Arts in Iraq, he has a wide range of artistic experience. During his time in the UK he has worked as a freelance artist delivering Middle Eastern dance and music workshops for schools, community groups and festivals across the UK.  Zirak also leads Daholl Kurdish Band, a lively blend of Kurdish and Middle Eastern music, traditional and contemporary, popular dance music. In 2012 Zirak also established the event called (Muzikstan) in Birmingham to provide artists with a platform to highlight their cultures and talents.
"A musician with breathtaking skills..." [The Guardian]
Music 
Daholl Kurdish Band is an energetic blend of Kurdish and Middle Eastern music which ranges from traditional to contemporary popular dance music. Led by dynamic violinist, percussionist and dance teacher Zirak Hamad.
"Music is life", says Zirak Hamad - a veteran musician from Iraqi Kurdistan, where he was a festival organiser, TV and radio presenter and music teacher who reflects on how the move to the UK has changed both his life and his music.
After moving to Birmingham from Iraqi Kurdistan in 2002 Zirak has been freelancing as a music and dance teacher and performing world music fusing traditional and contemporary sounds. "I am keener to work on electronic music (mixing Middle Eastern music and electronic music), which I believe is the future of music. I am part of a trio called Village Well where I play the violin and the drums. I have recorded three tracks with the band, which are available to buy now and I am also in the process of recording an album with them at the moment." The trio which also includes Norman Stewart (UK) and Pritam Singh (India) creates new contemporary sounds – drawing on jazz, folk, classical, pop or various traditional musical traditions. Zirak also plays with another band Daholl Kurdish ensemble, which focuses on more classical Kurdish music and dance.
Zirak joined Celebrating Sanctuary in 2005. "I realized it helped me to understand more about organisations and music in the UK, I learnt the different styles of music and worked with different artists from all over the world. Right now I am a volunteer with the organisation.
Zirak also conducts music workshops with children: "I believe that if we want to change the world we have to start with children. I can't change adults but children never want to have a barrier about different cultures and societies. Through music and dance we can break the barriers as children from different backgrounds come together and perform; it breaks the tension among people and shows we need to respect each other. I intend to keep working to bridge the gap between Kurdish and UK cultures by working with art organisations from the different countries."
For Zirak the change since he first arrived has been profound. "I love living in Birmingham - it's home now, even when I can go back to visit Iraq, I miss Birmingham, it has given me my life. It is very multicultural and big – but not like London where I can get lost," he laughs. "The heart of Birmingham is so big, it is one of the oldest cities but it has something new all the time. I learn something new every day here and there are a lot of opportunities." [Migtant Voice]
Music