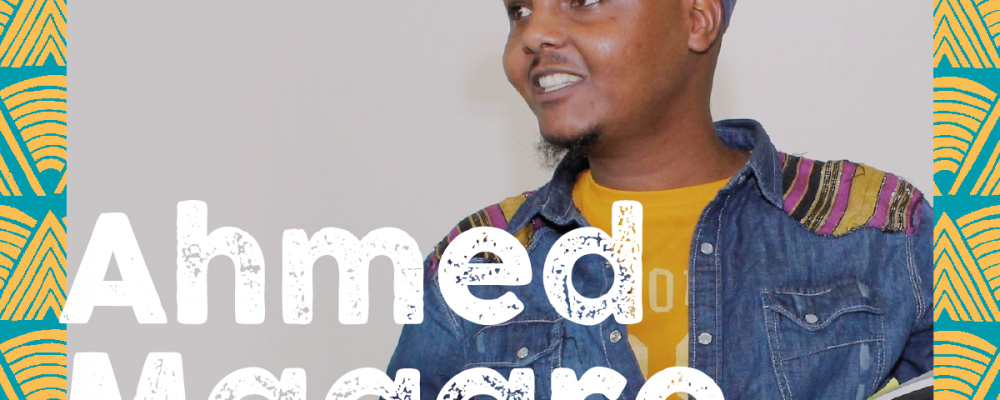 Ahmed Magare is a Somali born artist, poet and spoken word artist.  He spent many years in Holland before settling in the UK and completing his Fine Art BA (Hons) at Birmingham City University.  Ahmed has performed his spoken word on many platforms and collaborated with musicians and singers for many events.  He has exhibited his artwork and published 2 books of poetry with artwork, he also co-produced a film about the Somali Community in Birmingham.  In 2019 he hosted his own exhibition and events at Ort Gallery in Balsall Heath.  Ahmed is a regular contributor to CSB having performed his spoken word at CSB events, seminars and exhibitions at venues such as Birmingham Museum & Art Gallery, Ikon Gallery, Library of Birmingham, MAC, Ort Cafe.
Quarantime by Ahmed Magare
Introduction to 'Quarantime'
Time is for the time we spend in collective isolation, with family and friends to protect each other during these difficult times. Time as a subject in my writing is such as important as light and both are vocal vehicles in my poem.
I enjoy the reflective but emotional vulnerability in digging deeper to find selflessness and gratefulness (in oneself) So in the end time will symbolise a trajectory of testing people's patience and this will challenge us to use our eyes more positively during these uncertainties.
Quarantime
If time was a shallow voice
It has spoken
Highly of you
Called you not by your birth name
But right now as soon as you seen light
The same light
Today its flickering, within, unaware of your conscious worrying
Is it why you're desperate to keep the midday hostage?
Now fully charged-up, you feel confident to wear last year's curtain as a cape
As if you're a bigger YOU
Now imagine
Your touch softens the drumming-cry on velvet memories
Colourless it seems, for a minute or two
Fixated with time, birth of time and time that is by our side
For a minute or two
You remember the long walks to the petrol station at night
And then your fingers
In the shape of arrows
All pointing in different directions
But home
You wish the world well
Artwork by Ahmed Magare
Quarantime
This work is inspired by my poem entitled Quarantime (2020)
The pen and ink frankincense infused oiled drawing was made in 2014 and reworked for the imagine theme exploring the rainbow colours seen branded in our NHS and its this childlike gestures in the work that gives hope to us all.
Ahmed Magare
Sun Dust, Not Now by Ahmed Magare
Introduction
This piece explores collective activism in words. Our world often ignores the smallest injustice - the media dictates our picking and which side we belong to - western politics always being rightful one.
How does social media play huge part in being aware of global injustices? - and how sometimes scrolling down Facebook you can step over regions of unshared or not-known-about stories of the world. Can we be everywhere to share, to fight and to highlight our world?
Sun dust in a way becomes the shedding of pain of our natural world - how eventually all our issues become inter-tangled as one.
Sun Dust, Not Now

You make the sunrise smile sweet again
Lend your hopeful-huggy-hand to painful intrusions illuminating the deepest tears out of a sore iris - although I'm tired of what we call "trust" is not entirely lost
It's high-heart
Tattooed soft- held high!
With no admission - in heart
You mustn't stutter the sufferings
Give the moon back it's children
It's boys and girls are still in cages
Split apart in different dynasties
Too westernised, rebellious and backwards - they say
Some tulips grow up too fast

They will never ask my generation how we felt when we grew up playing Pinball Space Cadet and Solitaire card game on a lonely computer

Oh well, picture how this song unfolds
It grows flowers
In sacred seconds
Give time a hold
Tapestry of high hopes
Just blown away
And now you here
Split
Witnessing the noise of scattering snake carcasses not far from home
If home is a hill
You are there
In the midst of a rainbow pointing down towards a treacherous trail spread far for Polar bears that prey for their last meal
Right before bedtime
Disempowered skinny things
Look how they've bottled the air around us
We dream, our dreams
Our dreams dream about us
I'm sure
The name of love is not lost between our fingers
But blessed by spiderweb dust
Oh, the rainy sun smiles down upon us
Maybe this digitalised world is not song the we imagined to sing
Not night-bed that we planned to sleep in


Not now
Not one
Not now
Not by me
Not by the son of rivers that give birth to the sea
Nor by the reoccurring uncertainty - that made us sleep
But by a true vision of self - sailing to its destiny

Today is aching for someone to seek its raging tongue
Someone foolish to speak its secrets
Ceebta qarsadaa
Why say that? - so boastfully beautiful behind the mustard-tree, deafening the true light of humanity
Why do you aggressively scar the tree and pocket our dried tears in gold resin?
Only to push our truths back into our mouths
Back to the narrow roads of our osaphicus
What is stopping us?
Only a bit of heart burn and indigestion
For this is thy lesson!
Your truth is fruit to your investment
Death to silence
Silence will not be our death
Oh
You make the sunrise smile sweet again
Wax-away our bodies unto stone chairs, cemented, we cry in the language of sun dust

You are your reflection in an abstract painting
Counting your blessings as flaws, don't pause the fading fragments of love in the backseat of your mind
Be kind to yourself
It's hard
Depression is like homelessness
Homeless inside your head
Homeless inside your skin
Sun dust
Sun rain

Not now
Not one
Not now
Not by me
Not by the son of rivers that give birth to the sea
Nor by the reoccurring uncertainty - that made us sleep
But by a true vision of self - sailing to its destiny

You make the sunrise smile sweet again
Make love to anxiety
The right way
The way you wanted
It takes a world to be aware
A universe a little bit close to your uniqueness
A society not knowing you here
While a neighbour can be a close
friend
A friend that twins with your heart
Unexpectedly close
Carefully true
Faithfully you
Love
Lovely truth choreographed by a refugee
A dance so honest it was made for a migrant - to split the seas


Not now
Not one
Not now
Not by me
Not by the son of rivers that give birth to the sea
Nor by the reoccurring uncertainty - that made us sleep
But by a true vision of self - sailing to its destiny

I read
I write
I dream
I fight
For the young
I write
For their future
So bright
For my daughter
My light
For hers
And the hereafter
For today is an unfinished sentence
Words that give birth to hopeful words
Fill us with joy, ease and laughter

You make the sunrise smile sweet again
By sun dust and rainy sand
Let us find
Some safe light
Between the night and day of clenched fists
Unchained promise
You may feel this light
You may feel this light
To find out more about his work work please visit:
https://ahmedmagare.wordpress.com/
To find out more about the artists who CSB currently works with please visit: https://www.celebrating-sanctuary.org.uk/updates