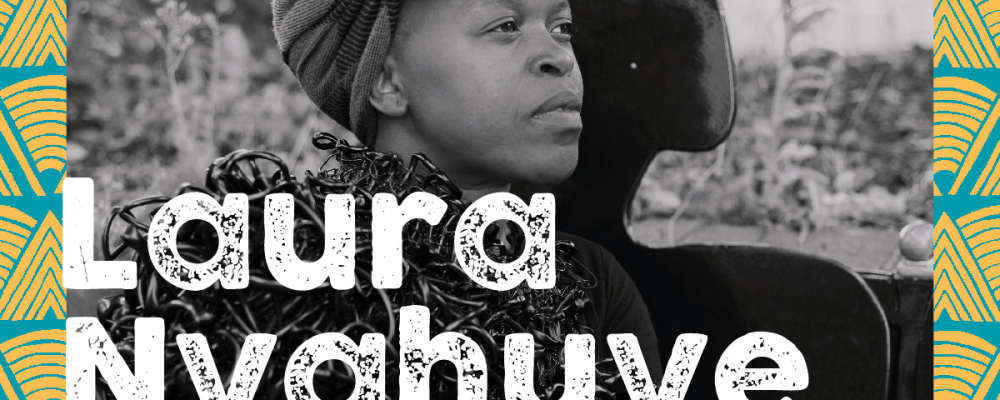 Laura Nyahuye makes wearable body Adornments. Her work challenges perceptions and addresses issues, to do with Women and Migrant communities, Tokenism, Marginalisation, Discrimination which are real-life issues, affecting migrant communities. These topics are woven into Laura's poetic writing and handmade body adornments. Laura is driven by the desire to see a better tomorrow for the next generation, to see a flicker of hope in the eyes of a fellow woman and for communities to connect, despite race, language and religion. 
"I have no desire to desire to fit in." [Laura Nyahuye]
Skin by Laura Nyahuye
Skin, is inspired by my convictions, beliefs and refusal to conform to a society that treats humans according to melanin levels. Skin, is highlighting the fact that whether we admit or not. We are ALL humans with RED blood running through our veins. Skin, is inviting the reader, audience to IMAGINE a world where skin is skin, because after all, that's what skin is. Skin is SKIN.
Skin a layer that, society has used to discriminate, segregate, torture, divide humans.
Imagine a world where skin is a celebration of our extraordinary individuality?
'I have no desire to fit in' LNyahuye
Skin…
Congratulations! Makorokoto! Amhlophe! It's a baby girl!
melanin levels 0.375
Skin Type VI
Closed boarders
Classified
Profiled
Skin… Care… Ganda…
She snuggled me in a hand knitted woollen blanket
Sooo cosy, bundled up like a little sausage.
All l wanted was to stay in this weightless, cosy blanket forever,
Zvachose!
Creamy white milk, mukaka, dripped from her
Dark pigmented breasts
her scent called me… so l cried
No.. l howled
In a split second my dark lips latched onto my mother's dark nipples
My mother my hero…
Amai vangu…
Skin … Care… Ganda…
melanin levels 0,440
Skin Type V
detained
detention centre
Gifts collecting dust
l stepped out of our front door into the cold blistery morning
It was my second week of school, my uniform still hanging on my body
Playing hang … man
She called me back, looked at me…
No;… looked at my skin, ganda rangu
her eyes roamed … my forehead, skin,
Cheeks, skin, ganda
lips, skin, chin,skin
neck,ears, skin, ganda
Arms, elbows,skin, ganda
Legs, skin, knees, skin,
Ganda, skin is ashy…she said, ndakachenuruka…
Amai vangu…
Skin … Care… Ganda…
melanin levels 0.212
Skin Type IV
Stateless, visaless
In limbo
She picked up the
chubby plastic jar
it was yellow kunge zuva
Her homemade skin moisturiser, filled the jar to the brim
kuzara kuti ta!
She dipped her dark index finger into the jar
Placed a dollop of the creamy,
Butter like, homemade moisturiser
Bang in the middle of her palm…
Then rub…rub…rub…her palms together
Until her palms glistened with oil as if they were oil producing palm trees
Amai vangu
Skin … Care… Ganda…
melanin levels 0.212
skin Type VI
Stopped and searched
Racially abused
Profiled
her glistening palms landed on my face,
my face tightened with a frown, kufinyama
my mouth formed a Nicely shaped ooo, muromo wangu
my nose flared up, mhino
her palms, rhythmically danced on my skin, ganda rangu,
my skin yielded, meso angu , my flared up nose conceded,
the ooo on my mouth loosened
And my skin… my skin
ganda rangu
Danced… danced…danced
To the rhythm
Of her palms
Amai Vangu!!!
Skin… Care… Ganda…
melanin levels 0.375
skin Type VI
closed doors
closed boarders
Angry black female
She said
Looking after your skin is key
They said you are too dark for our country
She said make sure you bath or shower every day
They said you are a monkey
She said make your own concoction; mix with shea butter, coconut oils, mustard oil, rosemary its good for your skin
They said you are stealing our jobs
She said these plants and herbs are God given for us to use and enjoy
Love your skin, ganda rako, let it glow…glow
Penya kunge zuva
They said these migrants, messing everything up
Destroying our economy
Skin… Care… Ganda…
Some bleach it,
Roast it
Some tan it
Some frown upon it
Weaponise it
Moisturise it
Some Cut it!
Skin…Ganda…
Largest human body part
Underneath it flows red blood
Skin ganda
Underneath is it lays our bones,
hearts, kidneys, intestines
yours
mine
Black skin, white skin, brown skin, all skin
Imagine a world were skin is skin
Black skin, white skin, brown skin, all skin
A testimony of love and no apologies
Imagine a world where skin… Ganda
Opens boarders…
Imagine…
Laura Nyahuye Zimbabwean born, UK
18th May 2020
To find out more about Laura Nyahuye work please visit: