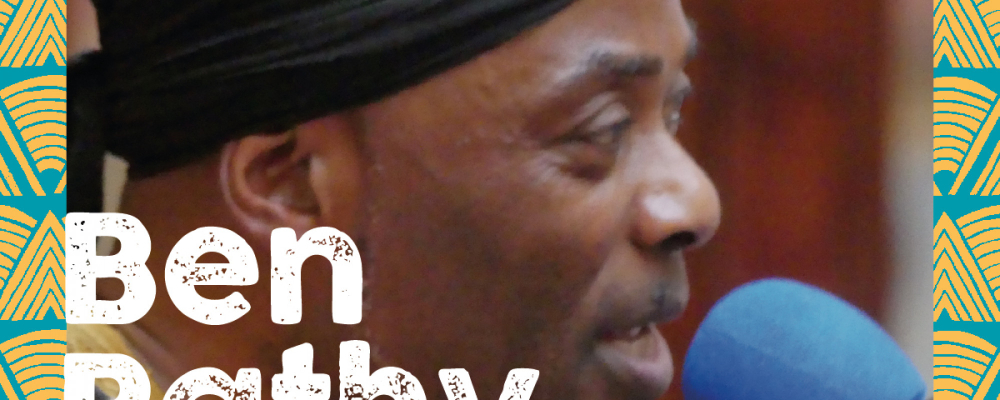 Ben Pathy is a singer, author and composer from Angola, specialising in traditional African music, Rumba, Soukous, Kizomba and Salsa. He has recorded two solo albums (Felicidade Igual, 1996 and Destino Incerto, 1999) and has performed internationally.  Since moving to the UK Ben has performed with Infusion Ensemble and formed his own band Afro Mio in 2008.   Afro Mio is a harmonious blend of rich vocals borne on a wave of rhythmic conga and melodious African guitar. Over the last 5 years Afro Mio have performed extensively across the Midlands at venues such as MAC, Symphony Hall, Birmingham Museum & Art Gallery, Four Squares Festival in Birmingham City Centre, Journeys Festival in Leicester and many more.   Ben has also been involved with a number of collaborations with other artists and delivered artist residencies  for CSB on the Ikon Slow Boat in 2018 and with Schools of Sanctuary in 2016.
Tudo Mudou - Spoken Word
Nkondolo - Song by Ben Pathy (Recording with Afro Mio)
Tudo Mudou by Ben Pathy (P Manona)
Tudo mudou
De repente tudo parou,
o mundo de ontem deixou de existir
Tudo mudou, sim mudou
Mas de que maneira?
Esta pande... pande..
pandemia que vem mudar tudo,
Que me obriga a esquer o meu ego, de ser,
quem fui
A pandemia que me dita novas regras de
vivência e convivência
Que mudou tudo sem exceção!
Tudo mudou
Tudo mudou para esquecer os meus hábitos
Ou... esquecer os nossos velhos hábitos
O amar, ato de amor que deixa de ter o
mesmo sabor de ontem.
Tudo muda de repente!
Esquecer os abraços,
Os beijinhos
E aqueles apertos de mãos que nos aquecem
mesmo em tempo de calor!
Tudu e para esquecer.
Tudo mudou
Tudo mudou por causa deste pande... pande..
Pandemia que arrasou vidas
Que confinou o mundo e obrigou a pensar..
E de pensar de forma diferente e viver de
forma não habitual.
Onde os animais gozam o pleno direito de
movimento e com liberdade.
Invertendo a situação em tampo de pande...
pandemia
Mulheres casadas gozarem do sabor de ser
casadas!
Amantes viverem a solidão de sempre em
tempo de pandemia.
Os namoros que se limitarem de forma virtual,
Sem o sabor de ontem!
Ovehas no campo, pastores confinados na
cidade,
Igrejas e bares sem entradas abertas
Tudo mudou.
O meu mundo nao e mais o mundo de ontem
A minha libertade reduzida, os meus
movimentos limitados
Tudu mudou por causa desta pande...
pandemia
A vida nunca mais sera a mesma.
Tudo mudou... Mas de que maneira?
By PMamona
To find out more about his work please visit:
https://www.facebook.com/afromio.music
https://www.instagram.com/afromio.music
 http://www.celebrating-sanctuary.org.uk/updates/2020-03-11/ben-pathy-afro-mio
To find out more about the artists who CSB currently works with please visit: https://www.celebrating-sanctuary.org.uk/updates